Casper College + University of Wyoming Student Union Building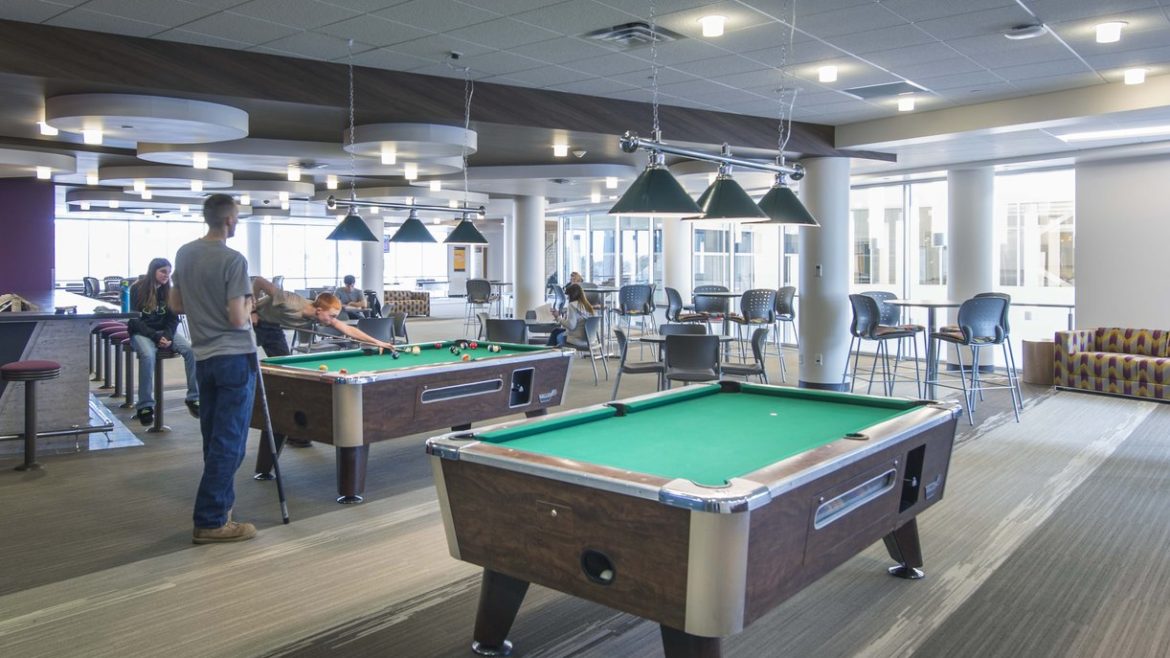 Casper College required a joint facility to house a more efficient and inviting Student Union, as well as facilities suited to the needs of the University of Wyoming. Amundsen Associates was the Associate Architect for this project, participating in the design process and providing the Construction Administration Services for the project.
The facility is integrated into the heart of campus. It provides a safe and user-friendly passage between the upper and lower campus. The four-story building includes spaces for student life, dining, student government, offices, classrooms, lounges, bookstore and recreation spaces. The facility includes many energy efficient design strategies and sustainable features including: building orientation, daylighting, high-efficiency HVAC units, low-flow restroom fixtures and low VOC products.
Description
DLR Group was the Architect of Record. Amundsen Associates was the Associate Architect. This higher education facility was completed in 2014 with the Construction Manager At-Risk project delivery method with AP Wyoming being the General Contractor.
Project details
Location:

Casper, WY

Area:

97,000 Square Feet

Cost:

$25.2M
Other Higher Education Projects
• Casper College Student Union / University of Wyoming Casper College Center in association with DLR Group
• University of Wyoming / Casper College Enhanced Oil Recovery Institute Renovation Office Design
• Casper College – University of North Dakota Aley Hall Science Labs and Distance Learning Renovation
• Casper College Liesinger Hall Pharmacy Technology Lab
• Casper College Health Science Simulation Center
• Casper College Strausner Hall English Department Renovation
• Casper College Liesinger Hall Occupational Therapy Assistant Program Renovation
• Casper College Residence Hall in association with AndersonMasonDale Architects
• Casper College Gateway Building in association with CRSA Architects
• Casper College American Recovery and Reinvestment Act projects at Werner Technology Center, Liesinger Hall, Aley Fine Arts, Goodstein Visual Arts and Werner Agricultural Pavilion
• Casper College Werner Technical Center Classroom Renovation
• Casper College Werner Technical Center English as a Second Language Renovation
• Casper College Werner Technical Center Wood Shop and Auto Body Shop Renovations
• Casper College Werner Technical Center Restroom Renovation
• Casper College Agriculture and Equine Resource Center Study
• Casper College Master Plan Refresh in association with Slater-Paull Architects
• Casper College Ranch House Conference Center Study
• Casper College Ranch Code Compliance Study
• Casper College As-Needed Service Contract
• Casper College Thorson Institute of Business Entry
• Casper College Doornbos Agricultural Annex
• Casper College Goodstein Visual Arts Entry
• Central Wyoming College Agriculture and Animal Science Center