Central Wyoming Counseling Center - Residential Treatment Facility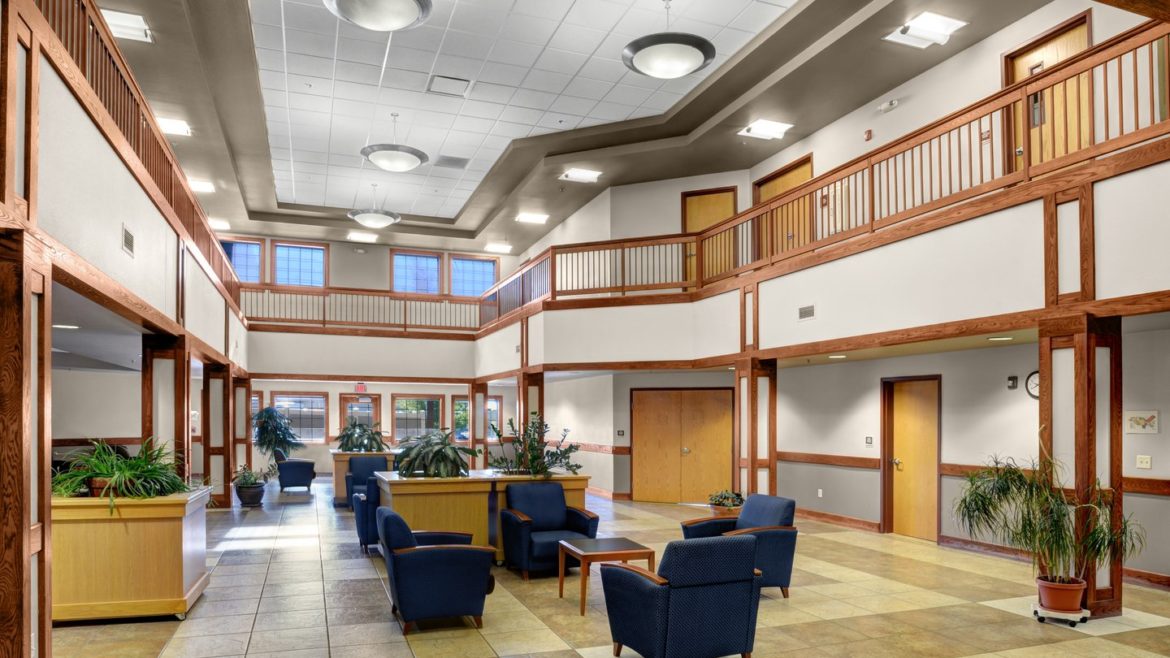 In 2007 Amundsen Associates was commissioned to design a building to house an inpatient, extended stay, residential treatment program.
This building consisted of a single-story administration wing and a two story residential treatment center which included a full service kitchen, staff support areas, counseling and group rooms, nurse's office, weight room and residential type living areas for men, women, adolescent boys, girls and families.
The facility houses 94 inpatients in a dormitory style setting. Bedrooms flank large living room areas used for television viewing, snacking, studying, socializing and relaxing. All portions of the living areas are designed to allow visual monitoring by staff on a full-time basis. This visual monitoring dictated the configuration of the residential wings as one control station can visually monitor numerous living areas. Numerous small counseling and conference areas are also contained within the residential wings.
Visual control for staff is critical, but residents must be isolated by gender and age with no physical or visual contact between groups. In addition to the visual control by staff, the entire facility is equipped with a state-of-the-art security camera system.
Description
Beyond the housing wings, the building contains many group rooms, counseling rooms, conference rooms, large commons areas, and an isolated administrative area. With preliminary costs estimated at $8,000,000 this project was completed for $ 7,800,000 in 2008.
Project details
Location:

Casper, WY

Area:

43,700 Square Feet

Cost:

$7.8M
Other Commercial Projects
• Mesa Primary Care
• Hat Six Travel Plaza
• Peterbuilt® of Wyoming in Rock Springs, WY
• Studio City® Movie Theaters (East and West Side)
• Star 10 Theater® in Rock Springs, WY
• Fitness One®
• Lifetime Health and Fitness
• SuperFit® and Prana Fitness®
• Platte River Plaza Office Building
• Mountain Plaza (Starbuck's® west side)
• McMurry Medical Arts
• Mobile Concrete
• Wyoming Machinery
• Iris Theater®
• Source Gas® relocation and remodel
• Intermountain Pipe Tenant Finishes
• First American Title® – Tenant Finishes
• First American Title® in Rawlins and Lander
• Porter, Muirhead, Cornia and Howard®
• 2nd Street Plaza (Cold Stone Creamery®)
• Triangle Plaza Shopping Center
• Broker One
• Cottonwood Plaza Renovations
• First Interstate Bank Tenant Finishes
• Mobile Concrete Office Building
• Wyoming Machinery Facility Addition
• Ladd's Clothing Store
• Eastridge Mall Tenant Finishes
• Coliseum Motors Dealership
• Big Wyoming GMC® Dealership
• White's Mountain Subaru® Addition and Remodel
• Overhead Door® Showroom and Warehouse
• Woodworkers Supply Addition and Multiple Tenant Finishes
• Navarro Gallery Finishes
• Mini Mart®