Gottsche Rehabilitation and Wellness Center Renovation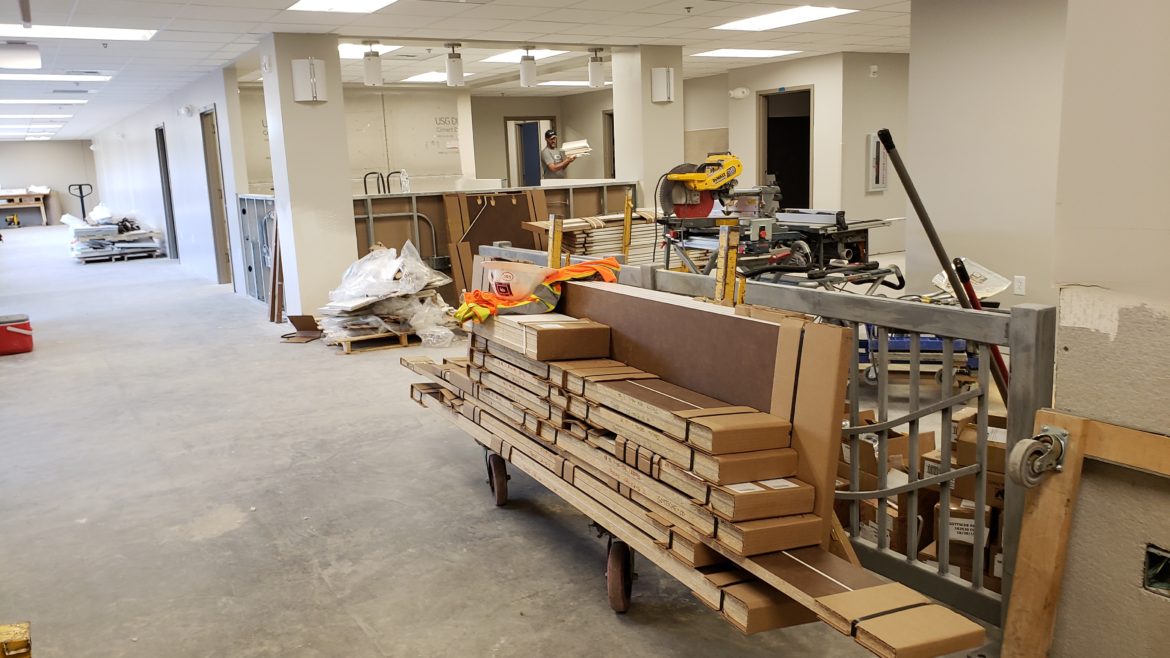 Gottsche Rehab Center is located in Thermopolis, Wyoming in Hot Springs State Park. The land is owned by the State of Wyoming – Department of State Parks and Cultural Resources and is leased to Gottsche Rehab Center on a 99-year lease. The facility was constructed in the 1950's in conjunction with (and attached to) the Hot Springs Memorial Hospital.
Description
In June of 2017, Groathouse Construction (Design-Builder), in association with Amundsen Associates (Architect), were hired to provide a conceptual design and budget to renovate the existing Gottsche Rehab Center using the Design-Build project delivery method. The original concept design was based on meetings with Gottsche staff which included information from prior staff and patient surveys. In November of 2018, work concluded on Phase 1 which included: disconnecting the Gottsche utilities from the hospital to make the this an independent facility, constructing a covered patient drop-off canopy, and a majority of the sitework. In July of 2019, work commenced on Phase 2. This will consist of a large scope interior renovation consummated with modern fixtures and finishes. When complete, the facility will have shed its institutional feel for a more contemporary, spa-like environment.
Project details
Location:

Thermopolis, WY

Area:

18,766 SQUARE FEET

Cost:

$5.3M
Other Health Care Projects
• Mesa Primary Care and Immediate Care
• McMurry Medical Arts
• Wyoming Medical Center Hybrid O.R. (in association with Davis Partnership)
• Casper Orthopaedics Renovation and Addition
• Casper Orthopaedics X-ray Remodel
• Rocky Mountain Oncology CT Scanner Addition
• Rocky Mountain Surgical Office
• Outpatient Radiology Remodel
• Premier Surgical Center
• McMurry Medical Arts Outpatient Radiology Equipment Replacement
• Wyoming Cardiopulmonary Services Four Phases and Interior Finishes
• Central Wyoming Counseling Center
• Wyoming Medical Center Wyoming Neurological Associates
• Central Wyoming Counseling Center Residential Treatment Facility
• Dr. Tobin - Community Health
• Wyoming Eye Institute
• Gastroenterology Associates
• Gastroenterology Associates Addition
• Eastern Wyoming Mental Health Remodel
• Red Desert Clinic
• Interim Health Care
• Converse County Memorial Hospital Annex Remodel
• Surgical Center for Dr. Robert Schlidt
• Surgical Center for Dr. Matthew Dodds
• Rocky Mountain Oncology
• Rocky Mountain Oncology Addition
• Mountain View Regional Hospital Addition
• Converse County Memorial Hospital Fourth Floor Finishes
• North Platte Physical Therapy
• Glenrock Clinic Remodel and Finishes
• "A" Street Medical Building
• Nowcap Services (Various buildings and phases)
• Pharmalogic
• Madora Plaza